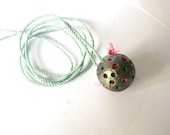 Perforated sphere filled with red silk.
Hand modeled sterling silver sphere filled with red silk,hanging from mint silk cord.
This unique pendant is lightly oxidised and has matte finish.
►All my products are designed and handmade by me.
This pendant will be made to order,please allow 3 days after your payment.
This pendant has been made using the lost wa...
Click Here to Visit My Etsy Shop!