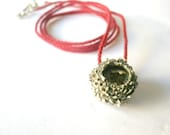 Great things may come from small beginnings and this hand sculpted acorn pendant with its red cord will certainly make a statement. It is just what you need to add the perfect finishing touch to your outfit whatever the occasion.
Nature is all around us this summer in the fashion world and you'll see nature inspired prints in fabrics everywhere this season. This acorn necklace will fit right in.
I u...
Click Here to Visit My Etsy Shop!