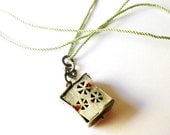 Sterling silver box pendant
Sterling silver box with hand cut flower design at the top filled with red silk ,hanging from mint silk thread.
This small box designed to look like and old box with holes and it s unique.
►All my products are designed and handmade by me
This pendant will be made to order,please allow 3 days after your payment.
Length:...
Click Here to Visit My Etsy Shop!