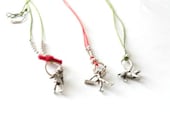 Sterling silver modern pendants are long elegant pendants that you can wear it from the morning until the night!!
The price is for one pendant but you can make your combination and wear all together or two of them!
They are very cute,you gonna love them(like i did)!!
Choose between the little girl,the clown with the trumpet and the dog!
if you want more than one just contact me.
Click Here to Visit My Etsy Shop!