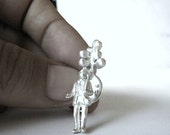 Man selling balloons sterling silver pin with matte finish.
Miniature brooch very unique and modern.
Wearable art.
This pin is unisex.
Figure size:3cm
►All my products are designed and handmade by me
Each figure has been made using the lost wax technique.
This pin will be made to order,please allow 3 days after your payment.<...
Click Here to Visit My Etsy Shop!