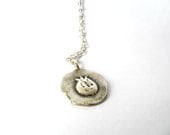 Sterling silver pomegranate necklace hanging from sterling silver chain.
Pomegranate - A symbol transforms abstract concepts, ideas and beliefs into tangible things that we can touch, see, hear, taste, smell and understand. The pomegranate has been used throughout history and in almost every religion as a symbol of humanity's most fundamental beliefs and desires, including rebirth and eternal life,...
Click Here to Visit My Etsy Shop!